ProReplicas - vintage audio equipments for recording
Replica of tube opto-compressor Teletronix LA-2A.
The LA-2A Leveling Amplifier is an audio compressor invented by James F. Lawrence II, founder of the Teletronix Engineering Company in Pasadena, California in the early 1960s. This is classic opto-compressor, Which uses electro-luminescent panel and photoresistors to provide gain reduction. In the LA-2A, the above components are contained in a separate module, which is called the T4 cell, and it's the heart of this compressor. The whole signal path and control of compression, is made on classic tubes, mounted a point to a point. This leveler is characterized by the most natural sound of compression from all the classic compressors, both at the subtle and deep the settings, through a unique feature of this compressor, which is a two-phased way of release. Although the duration of the attack is much slower than eg. in 1176, the processed tracks get massiveness and more direct sound in the direction of the hearer. It's a perfect tool for obtaining high-class vocal tracks, as well any of acoustic instruments, although of course not only. The proposed replica is made on the basis of the original schematic from the 1968 year, without any significant modifications or changes. Description of construction our replicas LA-2A is in further part of this web site.


Specification electrical:
INPUT: XLR, transformer isolated.
MAXIMUM GAIN: 40 dB, +/- 1dB
OUTPUT: XLR, floating, transformer isolated.
FEREQUENCY RESPONSE: 30-15,000Hz, +/-0,1dB.
SIGNAL TO NOISE RATIO: greater than 75 dB.
ATTACK TIME: essentially instantaneous 10 milliseconds.
RELEASE TIME: 60 milliseconds for 50% of the release, the following 50% happens gradually over a period of one to 15 seconds, before the signal comes back to 100%..
COMPRESSION RATIO: 4:1, but significantly dependent from sources
POWER SUPPLY: 115 or 230 AVC, 50/60Hz, 35W.
* construction details
This replica is mounted a point to point, identically like original units LA-2A. Here are used the replicas of original transformers audio UTC A24 and A10, from Sowter company. In path audio are applied two matched tubes ECC83 from JJ Electronics, and in path of control compression tubes from Sylvania and Electro-Harmonix. In critical places of signal path are used resistors Carbon Composite, special ceramic capacitors Z5U, like was in original units (not foil capacitors), and on output a hi-end electrolytic capacitor, blue Sprague Atom.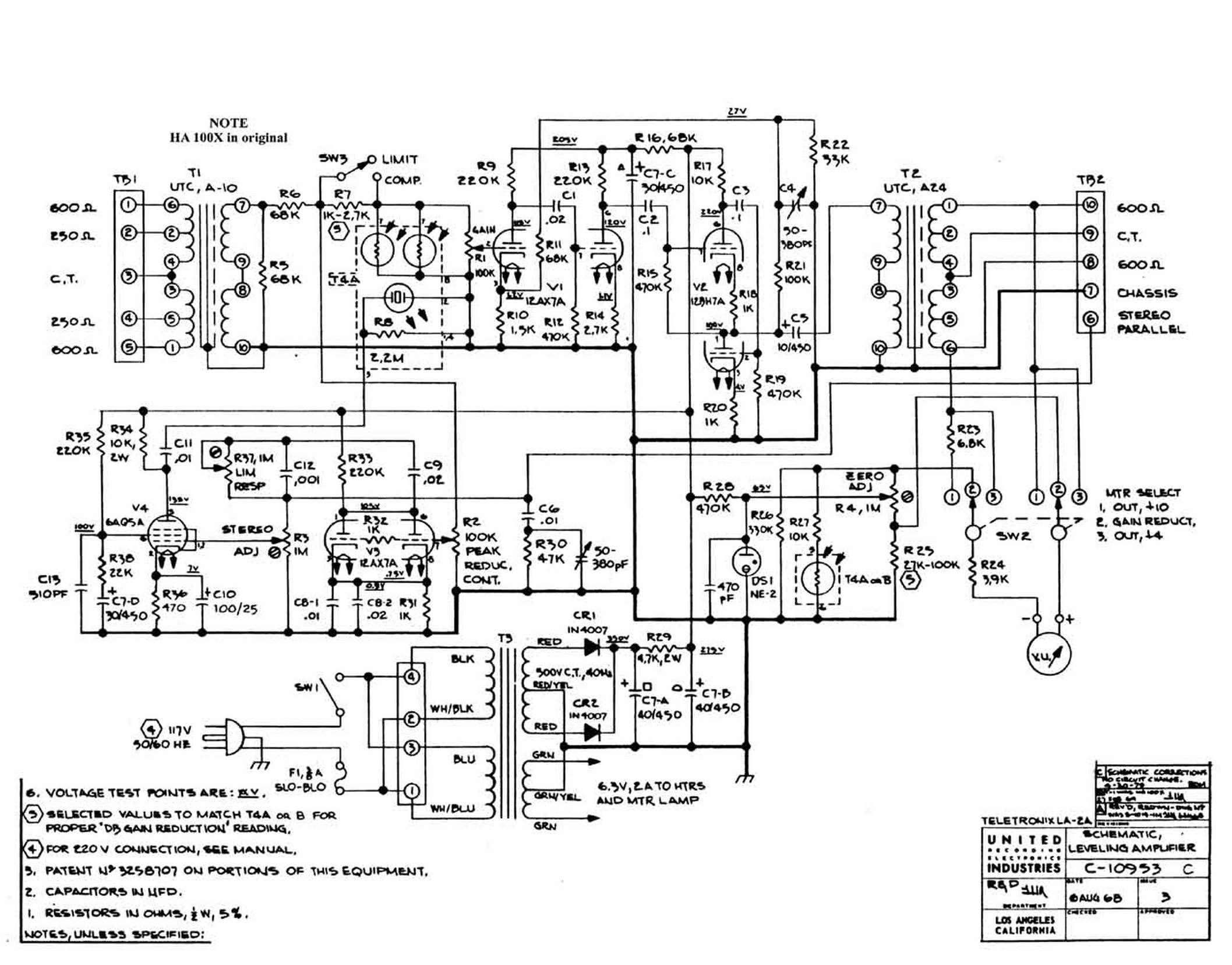 The original schematic from 1968 year.


List of key components used in the replica:
The typical complette a tubes for our replicas LA-2A. Here is matched pair of tubes ECC83 JJ Electronics, one tube 6AQ5A from Sylvania, and one tube 12AX7A from Electro-Harmonix.
The excellent replica of input transformer UTC A10, from Sowter company.
The excelent replica of output transformer UTC A24, from Sowter company.
The T4B cell. More...
Special ceramic capacitors Z5U, for original sound.
Resistors Carbon Composite, for original sound.
Variable capacitor 50-380 pF.
Hi-end electrolytic capacitor, blue Sprague Atom.
The rest of used components is high quality: resistors metal film 1%, very good foil capacitors (in audio track) JB capacitors, potentiometers and rotary switchs Alpha and Allen Bradley. Additionally it unit have employed anty-interference EMI power filter. Whole construction is executed firmly very.

;